On Friday, a good friend of mine Debbie, posted this comment as a response to my last post. It was just so beautiful that I wanted to share it as a new post! Enjoy!!
As I read this post in your blog, Lorissa, tears welled in my eyes. What a beautiful reminder of the abundance so many of us take for granted. I am thankful that you write what is in your heart and allow the Spirit to work through you to touch me. 

It's funny because I have been in a more aware state this past week of so much for which I am grateful, so when I was vacuuming this morning, even before I read your post, I did not get mad at or yell at the vacuum once. Vacuuming is my least favorite chore, and I usually get very frustrated because the vacuum falls over whenever I am using the attachments or moving the plug. It picks up dirt well, but it isn't a very user friendly vacuum. Today I am thankful for the vacuuming as it means I have a home, shelter for my family, that I am able to clean.
I too am thankful for the dishes which mean we ate our fill, laundry which means we have more than adequate clothing and bills. I am even thankful for the messes for it means I have a family. I am particularly grateful for the clean water I have access to every day because I know that so many in the world die from lack of access to clean drinking water. Our sweet Marah probably would have died if she had been in Ethiopia much longer. Her little body was fighting, but she just could not gain weight or thrive due to giardia, a parasite that comes from unclean water, and which we can easily treat here in the US.
I am also thankful for the food we have in our refrigerator and our pantry. Although I regret to admit that I sometimes complain that I don't feel like eating anything we have, I am so thankful for the many different kinds of food at my fingertips, and I am aware that many people could care less for food choices, and would give anything for a bowl of rice.

I am thankful for the gift of health, for the strength of my body, and the amazing way my body works. I too have struggled much in my life to love and accept my body. I recognize more and more that this body is simply an edifice that houses the spirit, and I am thankful for all this body allows me to experience every day. I am also thankful for a husband who cherishes my body as it is, for this too helps me to feel beautiful and to love my body.
I am thankful for the grass that needs to be mowed and the weeds that need to be pulled for it means that we have a lovely yard for Marah to play in and explore and for us to enjoy nature.
I am thankful for the gift of moments of quiet each day. Moments in which I hear the wind rustling the trees, and I see the sunlight dancing through the leaves, and I am aware of the beauty and majesty of creation. It is these moments that help me keep perspective each day. 
I am filled with gratefulness.
Debbie, thank-you for sharing these beautiful thoughts!
__________________________________________
Here are a few more things that I am thankful for!!
Finally having a little girl whose hair I can put in piggy tails!!
Little boys who take off on their bikes for the first time without training wheels! You go Noah!!
Vaseline...for when your little boy, who rides his bike for the first time without training wheel somehow gets his leg stuck in his bike.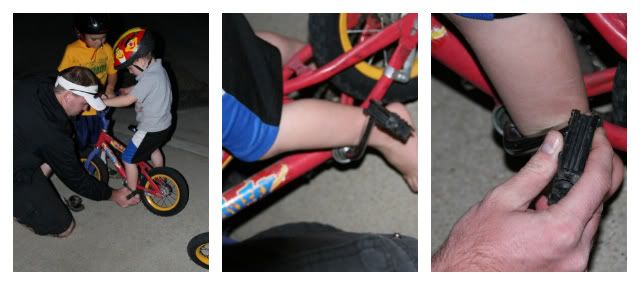 Hair color that hides those 1
2 gray hairs. Someone please tell me that I am too young for gray hair. Please.....someone....