A few weeks ago the world watched with great excitement and anticipation the wedding of Prince William and Kate Middleton. It truly was a beautiful royal wedding. And although there was so much hype leading up to and during the grand event, one thing is for certain, 95% of all the girls watching the ceremony were secretly thinking, "Oh, Kate Middleton is the luckiest girl in the world.... she is becoming a real life princess!"
This is where I want to reiterate a message that I share with the girls in my youth group often! We are all princesses; real life princesses!! Why? Because, we are the daughters of a king...... and not just any king, but the King of kings. It just so happens that our Father in Heaven, is not only the King of the Universe but He is the King of our lives. He has placed upon our hearts His Royal Seal and He has made us heirs to His glorious Kingdom. Because of who He is, we begin to know who we are....Daughters of the King, and with that title comes a deeper understanding of our own value, dignity, self-worth, beauty, and inherent importance. It means that we are priceless and unconditionally loved and we are called to hold our heads high (wearing an invisible crown) and to live our lives as a light unto the world!
I firmly believe that there is not a coincidence that deep down, all little girls (and even grown-up girls) daydream about being a princess! I believe that God stamped that dream on our souls when He created us, so that we would grow up to recognize the truth of who we really are! We may not live in a castle or drive around in a crystal carriage, but our identity as a princess is never-the-less as real. It is in recognizing this truth that we understand how big and how great God's plan is for our lives and how He longs to lavish upon us His love! So to all the women reading this, please know that you are a princess and God so greatly desires for you to live happily-ever-after!!
--------------------------------------------------------------------------------------------------
Okay.... so, yesterday was truly a Royal Princess Tea Party Bridal Shower for my two gorgeous sister-in-laws, Jennifer and Kimberly. It was a day filled with beautiful women coming together, laughing and celebrating the love stories of Jennifer & Josh and Kimberly & Travis. Let's just say that the delicious food was only outdone by the hilarious video of Travis and Josh (which you can watch at the end of this post)!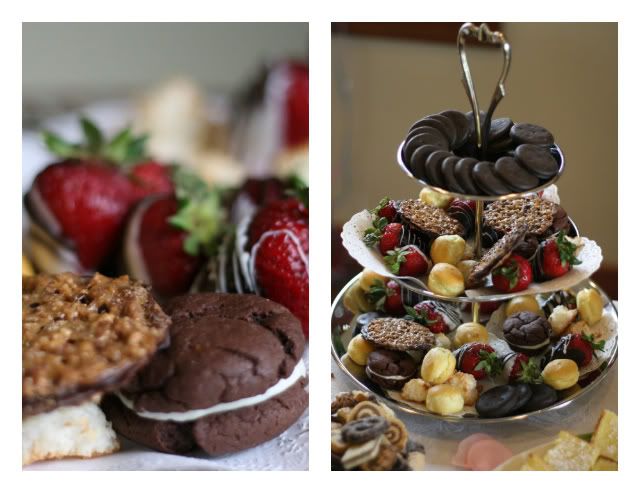 Last second preparations....getting the tea ready! Amanda, thank-you for all of your help. You are such an amazing friend!



In this picture are two incredibly stunning ladies; my dear friend Emily and my beautiful Mother-law Patricia (mother of the brides!)
Amanda and Mamasita Linda!!
Natalie went to incredible lengths to make two (twin cupcake cakes), complete with sparkling Tiara's! She also made these delicious mini cupcakes to adorn the dessert table. And to top it off, each of our lovely guest left the Tea party shower with their own, cake pops (two of course!) Everything was Natalicious!!! Thank you so much Natalie!





The many beautiful women.
Josh's beautiful mother and grandmother!!

Presents!!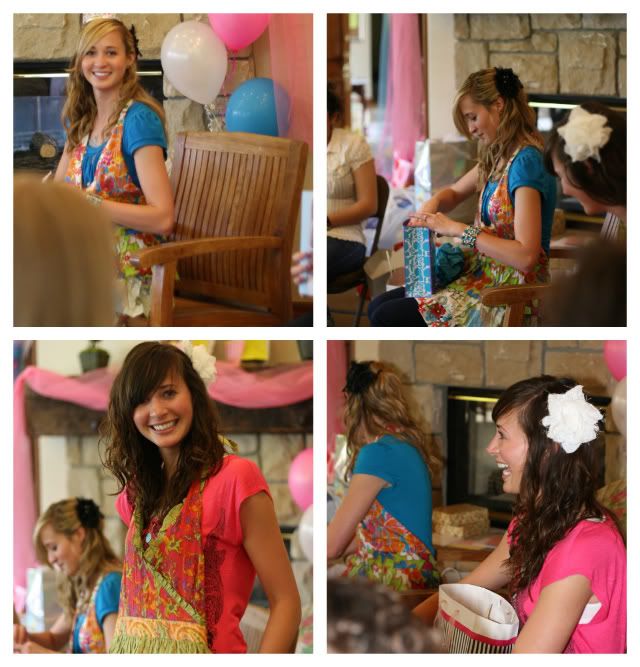 Stephanie, thank-you for making it possible for us to celebrate this occasion at your amazing clubhouse!!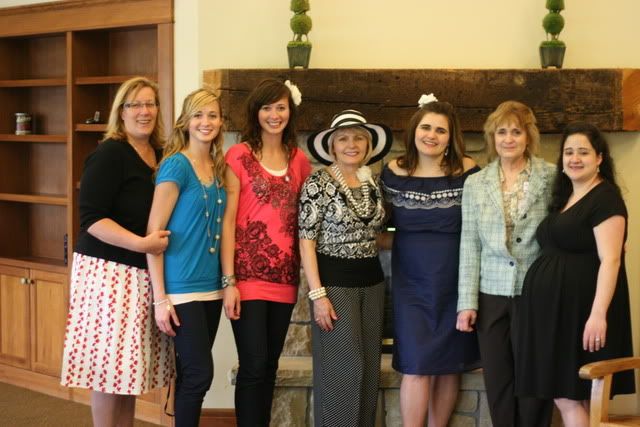 Mom, you never cease to amaze me! You are incredible and generous and an inspiration to me and so many! I truly don't know how you do it, but I am glad that I am your daughter and that I get to have front row seats to watch you and all of your awesomeness in action!!! Thank-you for throwing such a wonderful Tea Party!



Okay.......so here was the entertainment for the party!! Johnny had so much fun putting this together! Thanks Travis and Josh for the laughs!
As if that wasn't funny enough, here are some out-takes that will surely bring a few more tears of laughter!!