This is the 4th year that Johnny has done the Great Potato race and every year I am amazed at his determination to run...... and to finish a half marathon. Given the fact that just the thought of running 20 steps to the mailbox makes me want to pass out, I find myself even more in awe of this great feat.
Johnny woke up early Saturday morning and was at the starting line at 8am, ready for take-off!! Here are some great pictures of my husband along the course.
I am so blessed to have a husband that our boys look up to and want to emulate. They were so proud of their dad as they cheered him on to the finish line!!

So, there is rarely a day that goes by that I am not in awe of my husband and all that he does. When he says that he is going to do something... he always follows through, and I am always so inspired by him. Plus, he is so dang cute!!
_________________________________
Adam and Carolyn's House
Warming Party!!!
Later that afternoon, we enjoyed the laughter of good friends as we gathered to celebrate newlyweds, Adam and Carolyn's 1st place. As we ate delicious home made pizza in their cozy apartment, I was instantly transported back to our 1st place, and so vividly soaked in those memories of our first months of being married, creating a home together, and being so intoxicated with love!!


The kids playing frisbee and football........ until Johnny kicked the ball onto the balcony of someone's apartment.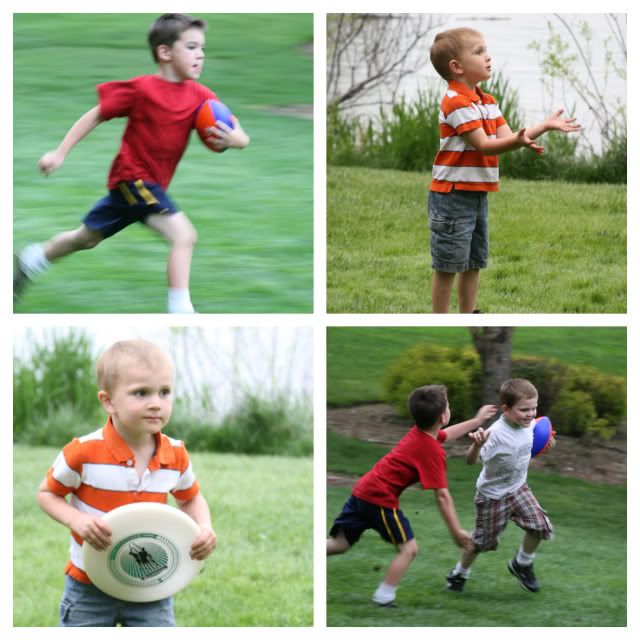 Later that night, we got home, put the kids to bed and Johnny stayed up until 3 am helping me get ready for Jennifer and Kimberly's bridal shower the next day. Not only did he just run a half-marathon earlier that day, but had about 4 hours of sleep the night before, and here he was helping me get everything ready.... all while making me laugh hysterically until the early hours of the morning.
Did I mention that I have an amazing husband ??!!!