Every Tuesday evening we have a Holy Hour of Adoration. Tonight, as we were walking up the steps to the Church, I reached down to hold Gianna's hand to help her up the steps. She forcefully pushed my hand away and boldly proclaimed, "self!". And then she confidently marched up the stairs.... all by herself. I patiently remained by her side, ready to catch her should she fall.
Now, since she is my 4th child, I have become quite accustomed to my children getting to that point of independence (usually around the age of two) where they want to do everything "by myself!" And of course, I am thankful for that.
However, as I walked into the chapel and knelt to pray, the image of her pushing me away so that she could do it herself, hit me hard. I looked at Jesus and wondered how many times a day do I do the same to Him? I pictured moments in my life, where I know that He was gently reaching out His loving hand to help me....and I, quite content with my own abilities, pushed forward on my own. And yet, each day, each moment, as a loving Father, he gently waits there right beside me to catch me should I fall. Incredible.



The other night, a rare thing happened. Gianna who is always squirmy and rarely sits still, fell asleep in the car. As I was bringing her in from the car, she woke up but still in a sleepy state continued to rest her head on my shoulder. This special moment just lasted long enough for me to feel her heart beating against my chest and for me to be able to whisper into her ear how much I love her. Then her little head popped up and she smiled at me.


This is where I long to be.... resting in my fathers arms, my heart beating along with His. Safe. Content. At peace. These moments are rare, because it's so difficult to stop and be present to Him. I feel like I am always running a million miles a minute. And yet, so often I feel Him calling out to me to come and rest my head on His shoulder. And in those rare moments, when I actually go there, I discover that it is the greatest place to be, the place where He gently whispers into my ear how much He loves me and how He desires for me to hear Him tell me all about the great dreams and plans that He has for my life.
God thank-you for being patient with me. Thank-you for always being there by my side and ready whenever I need you to hold me in your arms. Please give me the grace to find my place more often in You...... And thank-you for teaching me these lessons tonight through my little girl.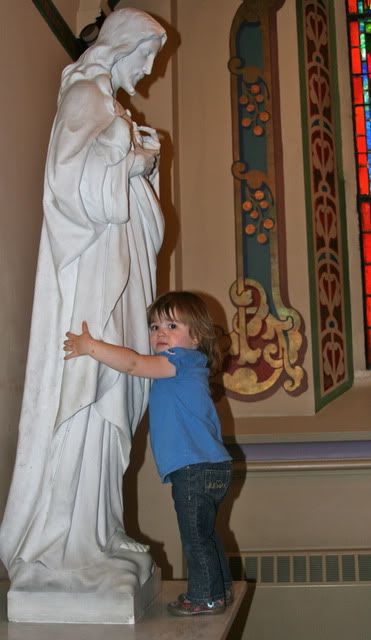 "Almighty God, you have made us for yourself, and our hearts are restless until they rest in you." St. Augustine