A few weeks ago Caleb and I celebrated our birthdays (3 days apart).
My birthday fell on a Wednesday so we had a nice dinner with one of our good friends Linda who brought me a plate full of goodies and this beautiful bouquet complete with tulips (my favorite, and in the fall even)!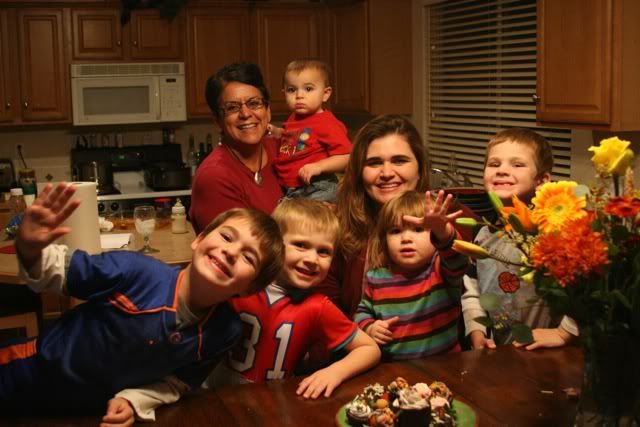 Then on Friday we had a big family party for both of us. It was nice celebrating and watching my little boy turn 6 years old.
This is what "making a wish" looks like. And Caleb, I hope all of your wishes come true!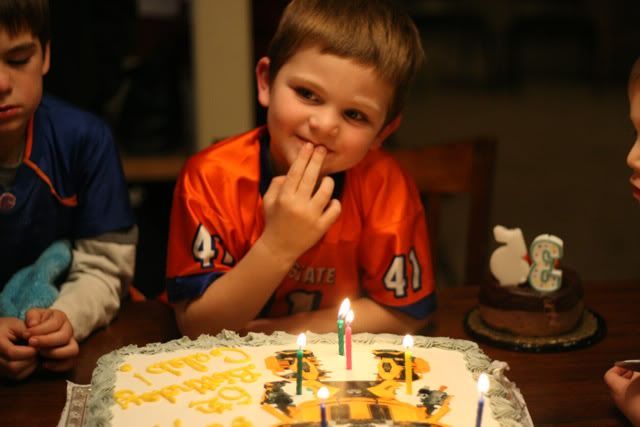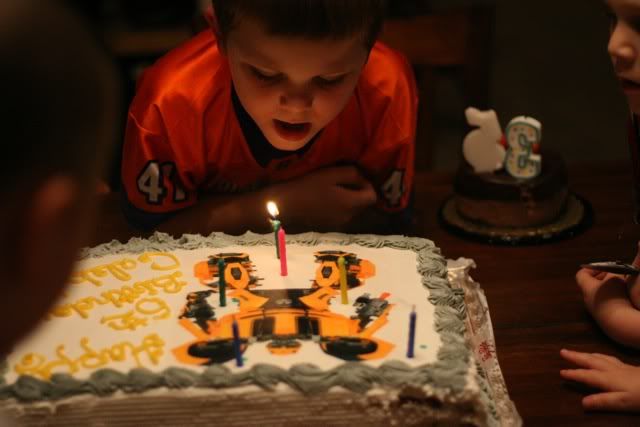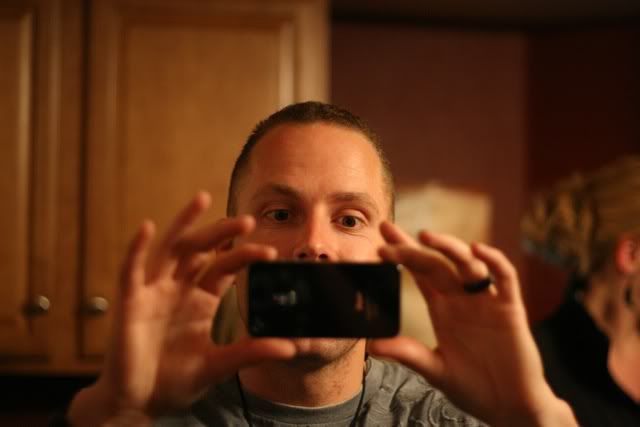 Cousins.


Josh showing off his mad skills being able to "siesta" in a room filled with so many small children who have just eaten cake and ice cream. Very impressive.
I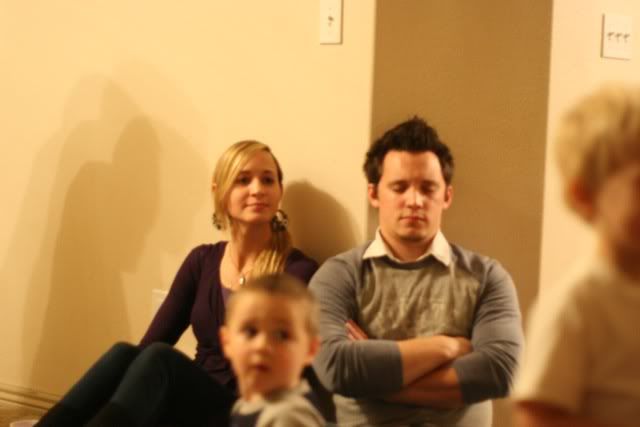 Birthdays are important. Whether your turning 6 or 35 or 92, it's important to celebrate this life that God has given us.
But I have to say, this birthday was a bit different for me. As the days crept closer to my 35th birthday, I found myself doing a lot of reflecting and self analysis (which is good). I reflected on how fast life really goes by. I can remember high school like it was yesterday - (yesterday being almost 17 years ago...CRAZY!). I can't believe that Johnny and I are about to celebrate our 9th anniversary, and I can still so vividly feel Joshua curled up in my arms as we brought him home from the hospital.....nearly 7 years ago.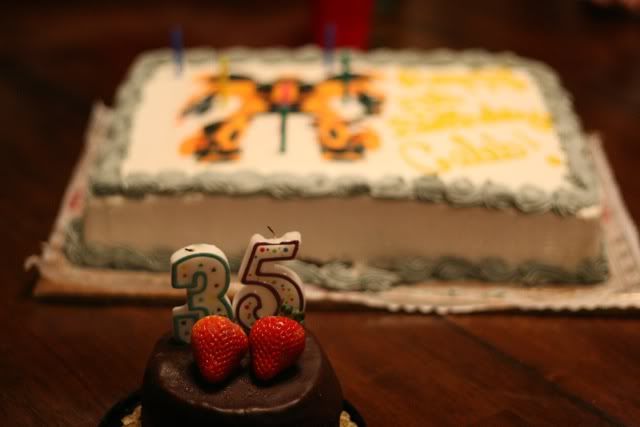 I'm not upset about turning 35, it's just that the reality of time and how quickly it passes causes me to pause. And pausing too, is good. Half the time I feel like I am frantically running just trying to catch up to my life that I so desperately don't want to pass me by. This is why it's good for me to reflect on ways that I can slow down a little and be more aware of the present moment in all it's splendor and beauty. I want to be more present to my family, my friends and the people and situations that God brings into my life daily.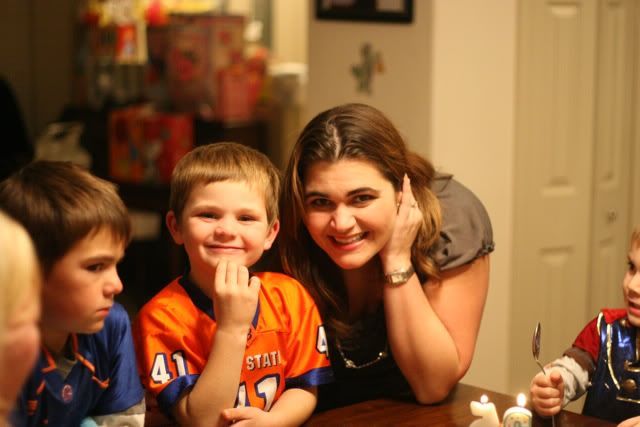 In the past few months, I have known several people who lost loved one's unexpectedly. In mourning with them, I've found myself looking at life a little more closely and realizing that no matter how many years we live...the truth is, that life is pretty short. It's really up to us how we live it, and I want to live it to the fullest.
We should never wait until "someday" to say, "I love you", or "I'm sorry", or "I forgive you". Right now is the time for us to hold our children tighter, to play with them a few minutes longer, to actually go out to lunch with that friend we've been meaning to get together with forever. I don't want to wait until "later" to make memories that I need to be making now or to set goals that will help me to be a healthier person, or to get more organized so that I can be more peaceful.
Advent started this past Sunday. I am so thankful for the ways in which the Church's liturgical seasons give us the opportunity to enter into a new perspective and gives our souls an opportunity for change and growth. Advent is about preparing and making room in our hearts for Christ. Advent also begins the new Church year which means that I am making some New Year's resolutions today, advent style.
Here is my 6 Advent New Years Resolutions:
1) To slow down and be more present (to focus more on relationships)
2) To spend more quality time with my husband and children
3) To be more intentional about my prayer life
4) To improve my health by eating better and exercising
5) To clear out the clutter
6) To ask for help (because I am going to need help to do these things)
Yesterday, Johnny and I both started our new workout program. We've stocked up on healthy foods and I am really excited to focus on getting healthy so that I will have the energy to be the best wife, mother, youth minister, person I can be. I no longer want to survive...I want to thrive!
Normally when I make resolutions, I write them down in my journal and tuck it away in my nightstand drawer so no one will read it, just incase I don't actually follow through with them. The reason that I am posting my resolutions today is because whether 20 people or 200 read this post, I know that I cannot do this without the help, support, encouragement, prayers and accountability of my family and friends.
So if you've had success at weight loss, at simplifying your life, or getting organized, or if you have a great healthy recipe, please share your tips with me, either in the comments section, or by phone or text or email or face-to-face (all the better).
Also, I invite you to join me by not waiting until January 1st to set your own resolutions. Together, let's make this advent different. Let us prepare our hearts for Christ by striving to be holier, to be more present to others, and to fall more in love with this crazy, amazing and beautiful life that we've been given.
To be honest with you, a few months ago I wasn't really looking forward to turning 35. But now that I am here, it feels pretty good. I am thankful to be alive and excited to experience this upcoming year and all the lessons and blessings that it will bring.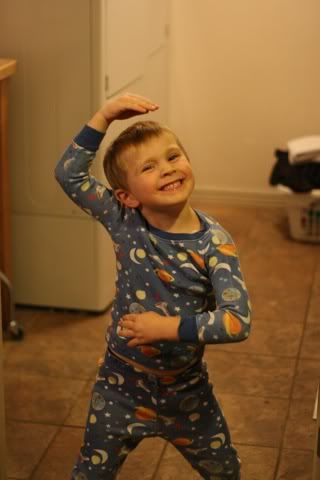 May God bless you and Happy New Years!!