Yesterday I set out to run my first 10k. After six weeks of training, I felt pretty good about running in this race, except for one thing. Last Saturday I went for a run and at about 4 miles I was running past the home of some of our friends, John and Sharon, when I saw John standing out in his front yard. I waved and shouted "hi" as I ran past and he responded, "Hi Lorissa.... don't hurt yourself". I nodded okay and smiled as I continued on thinking to myself, "I'm just jogging...how could I possibly
hurt
myself?" Sure enough, less than 50 feet later, I took a hard step off the curb of the sidewalk and instantly a shooting pain when up the bottom of my right foot. I knew I had tweaked my foot and possibly pulled a ligament. I pushed through the pain and continued running but by the time I had made it home, it was starting to swell and for the next several days I had trouble walking on it.
By mid week however, it had improved greatly. The pain was pretty much gone and I did a two mile run on Thursday without a problem. I thought everything was fine.
As I gathered at the starting point for the Great Potato 10K I felt excited and encouraged especially by the number of family and friends who had called and sent texts the night before and early that morning wishing Johnny and I luck and letting us know that they were praying for us. It was a beautiful morning and there was a great level of excitement buzzing through the hundreds of people lining up behind the starting point. I had set a personal goal for myself to finish in under 70 minutes which for any avid runner is enormously slow, but for me was realistic (about 11.5 minutes per mile).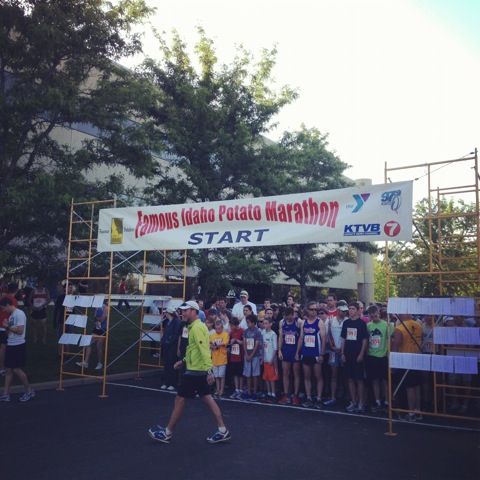 And then the race began. The first mile was tough. Trying to weave between massive groups of people all going different paces is challenging.
(especially when trying to take a picture)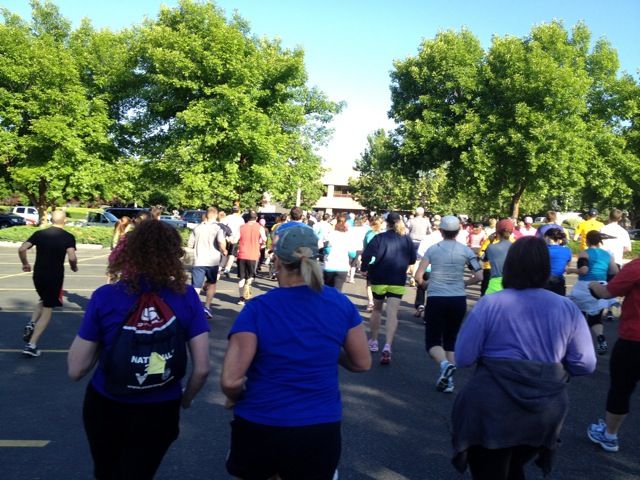 By the second mile however, I had found my groove. I had a few feet of space both in front of and behind me separating me from other runners. I felt great and was enjoying the breathtaking beauty of the Boise River and the way the sun's reflections danced on the water.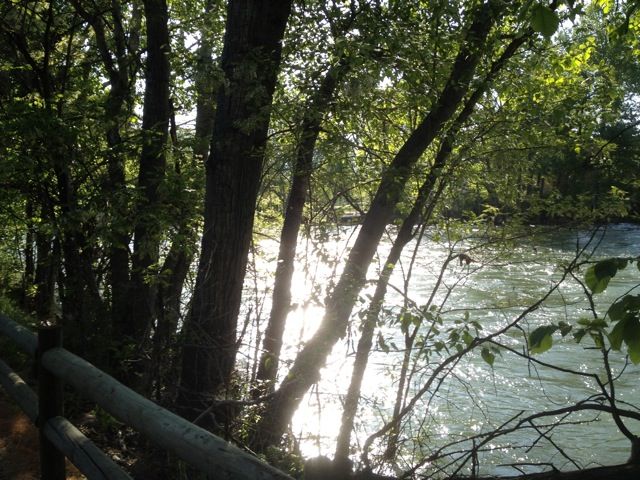 I was also way ahead of my time. By the time I had completed my 2nd mile, I knew I was consistently averaging 9.30 minutes per mile, thanks to my awesome
mapmyrun
app that was tracking my progress. If I could keep this pace, I'd not only finish in under 70 minutes, but I'd easily finish in under 60 minutes. I knew I could do it!
By mile three, I was still feeling great and knew I was half way there. Just 30 more minutes and I'd be crossing the finish line....piece of cake. And then it happened. At around 3.25 miles my right foot began to hurt again. It started out with a dull pain that was tolerable but within another minute or so the pain was full on. I started to panic and stepped off to the side of the course for a moment thinking that if I stretched my foot it might help. It didn't. I started to run again and the pain increased. Each step felt like someone was hammering a nail up the bottom of my foot and all the nerve endings were responding. It hurt to walk and it hurt even more to run. I began to cry out in prayer, "Oh God, why is this happing right now? Everything was going so well. Please, please take this pain from me. You can give it back in just 30 minutes, but please God, you can do anything.....please make it stop!" It only intensified.
I could feel burning tears begin to well up in my eyes. I didn't know what to do. I felt defeated. At this point in the race the course had circled back around and we were back near the starting point which meant that I was only blocks away from where my car was parked. I looked ahead at the hundreds of runners and found strength in knowing that many of them were running with even greater adversities than I was. But I also kept looking over to where the car was and began listening to that booming voice within in me telling me to stop. "What if you have a serious injury? What if you continue on and make it worse? You need to stop."
I was faced with a difficult decision. My body was telling me to stop, my heart was telling me to push on. I didn't know what to do. However at that moment two things happened. First, my memory flashed to another homily podcast by Fr. Mike Schmitz that I had just listened to earlier in the week about the power of offering up your sufferings and second, this
amazing song
began to play on my iphone. I made a decision at that moment. I was going to run this race and I was going to finish it.
And so, I began to run again. I could only put weight on the upper part of my foot (by my toes) and so I ran with a bit of a limp. My pace slowed down significantly and I am certain that I looked quite strange hobbling along but I was determined to cross the finish line.
I began to offer up every step for loved ones in my life who I know are dealing with much greater sufferings. I prayed that God would allow my little suffering to be united with His and trusted that God would do something great with my offering.
The pain never stopped but I noticed something interesting as I continued on the next several miles. I ran past many people whose running had slowed down to a walk and would notice that soon after I passed them they would begin to run again. This happened over and over. All I could think of was that people would see me jogging past them with a limp and maybe they thought to themselves, "if she can run with a limp like that, surely I can run too." Is it possible that some of those people found strength in my weakness?
About 1/4 of mile before the finish line, the crowds along the sidelines started to thicken. People were cheering on their loved ones and although they weren't specifically cheering for me, their presence was powerful. Then something glorious happened. I heard my name and turned my head to find my good friend Natalie on her bike right beside me. She yelled out, "Good job Lorisa!! You are awesome! You are almost there!! The finish line is right around the corner! You can do it Lorissa!! I'm so proud of you!! Her encouraging words penetrated my heart and once again my eyes filled with tears.
Whenever Johnny runs in a race he always says that the people cheering along the sides reminds him of the Communion of Saints. Natalie's presence yesterday made me instantly understand what he is always talking about.
She has run this race before several times in the past few years. She new the course well, she new that I was almost there and she also knew exactly how I was feeling at that moment. Natalie couldn't run the race for me, but her presence and her encouragement gave me extraordinary strength to finish strong. This is what the Saints do for us. They know the course, they've already won the race and so they cheer us on, giving us strength for the journey. Oh, we are always so surrounded by such a cloud of witnesses. (Hebrew 12:1)
I crossed the bridge and rounded the corner and sure enough, Natalie was right, the finish line!!! At this point my calf muscle was cramping up as it was overcompensating for the way I was running on my toes, but I ran through the finish line with my head held high. I was disappointed to see the time clock say 75:15, but was proud never-the-less that I had finished the race.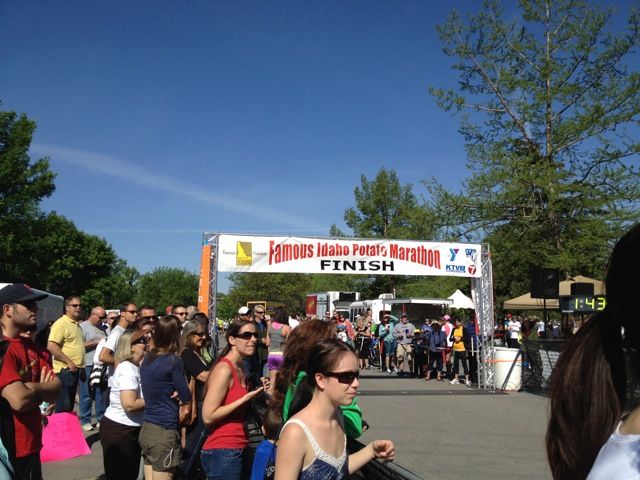 Moments later I found Jennifer and Kimberly, Johnny's amazing sisters who had brought our kids down to the race and we stood by waiting for Johnny and our good friend Brock to finish the 1/2 marathon.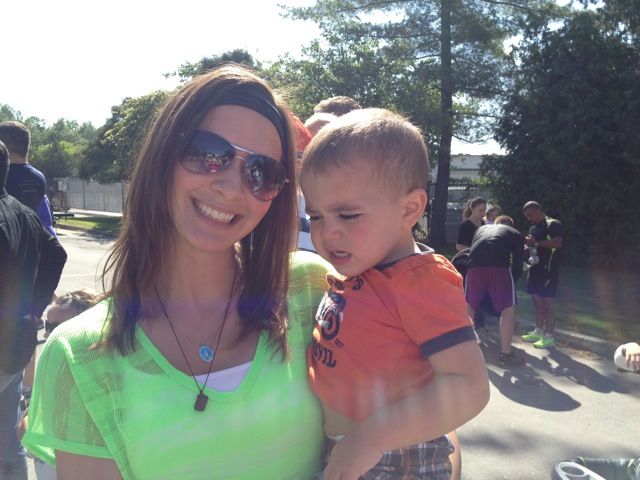 40 minutes later they came running by as we cheered them on. It was really powerful for me to be on the side cheering for Johnny knowing that I too, less thank an hour earlier had crossed through that same finish line for my own race. It was a feeling I'd never experienced before.
Life is funny sometimes. I've grown a lot in the past 6 weeks of training for this race and this growth has much more to do about life than it does about a physical accomplishment. As I look back at that moment in the race when my foot began to hurt and I made the decision to continue on, I knew something in me was changing. A few years ago, even just a few months ago, without a doubt I know I would have given up. I would have been too afraid to push myself. I would have let the pain win.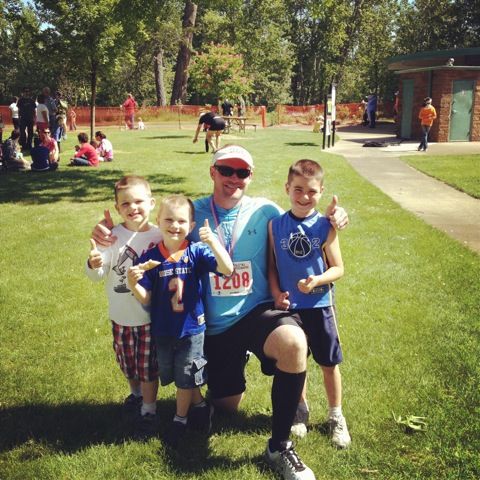 But I can feel God pushing me right now kind of like a father who is removing the training wheels from his daughter's bike. Although those training wheels provide a sense of safety, a loving father knows that when his daughter is ready, she can do so much more on that bike once those training wheel come off. I know that God is calling me to do things in my life that may be challenging and difficult, things that may push me out of my comfort zone, but I know that God has great plans for my life and that "I can do all things through HIM who gives me strength". (Phil 4:13)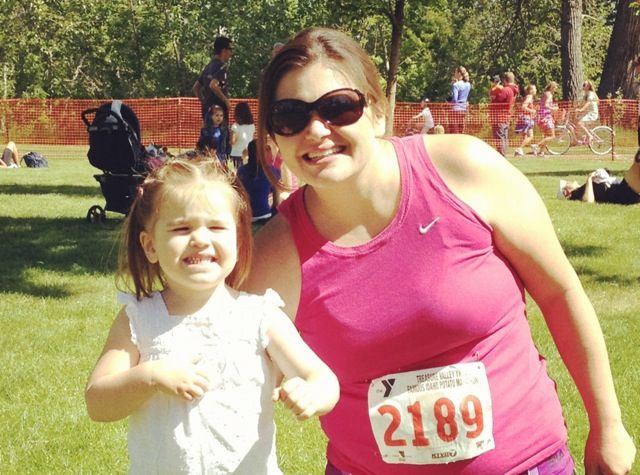 I also know that the greatest moments in our lives are rarely void of suffering (kind of like giving birth to a child) and that we should never, ever allow our sufferings to go to waste. We should always offer them up knowing that God can do miracles with them.
Speaking of miracles, Johnny experienced a little one as well yesterday during his race. As Johnny and Brock were driving up to Lucky Peak for their race, they said several morning prayers together and Johnny offered up the race for our friend Kelly who had recently passed away. As Johnny finished his first mile he glanced over to find someone standing along the course with a giant sign that read, "Go Kelly Go!"
Johnny too had to wipe tears from his eyes during the race and it was just one more reminder that God is always there!
Here is that homily that I talked about by Fr. Mike Schmitz:
"Participating in Salvation"