Most mornings Gianna and I have a routine. She wakes up and I help her get dressed. Usually she chooses one of her many "princess dresses" and then we head to the bathroom where our cherished morning mother-daughter time takes place.
Our routine starts out like this. Gianna sits on the edge of my bathtub and watches intently as I do my make-up. During this time she loves to mimic me using her own "empty" cosmetic powder case.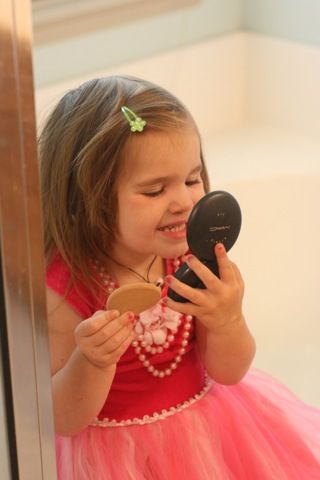 She also asks me countless questions about what I am doing as I am putting on my make-up. "Is that blush you are putting on Mommy?" "Why are you putting that on your eyes Mommy?" in reference to my mascara. "Mommy, can I have some lip gloss too (pronouncing it, lippyglass)?
Once I am done with my own hair and make-up, I lift her up on my counter to do her hair.....and she loves it!!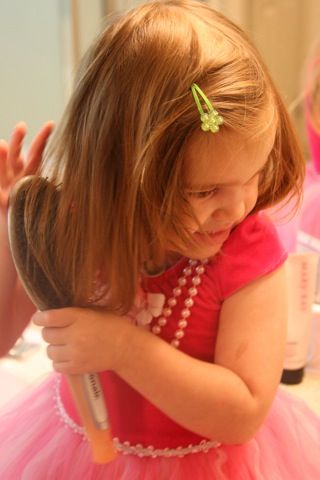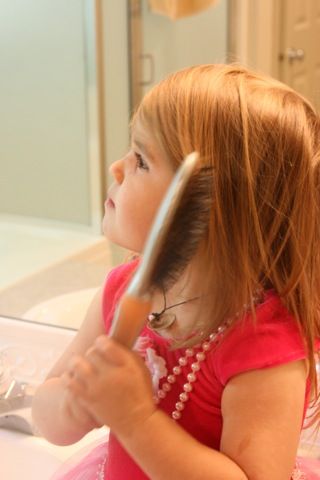 When I first found out that I was pregnant with our fourth child I was convinced that we were going to have another boy and I was fine with that. But the moment the ultrasound revealed a little girl I began dreaming in pink. I would get so excited thinking about someday painting her nails and braiding her hair. I imagined Saturday afternoons, just the two of us walking through the mall looking at accessories and trying on shoes. I couldn't wait to do all the fun "girl" things my mom would (and still does) with my sister and me.
Now that Gianna is two-and-a-half years old she is truly beginning to embody all those things I would dream about. She loves her sparkly "slippers" and corrects me every time I call them shoes. She loves bubble baths, lotion and perfume and her entire world lights up if I happen to bring home a new cinderella lipgloss. She loves wearing her princess dresses especially with tights and it's quite common for her to change "slippers" several times a day. Johnny and I are both enjoying our little girl so much and the sweetness she brings to our family filled with boys, footballs and Jedi light-sabers.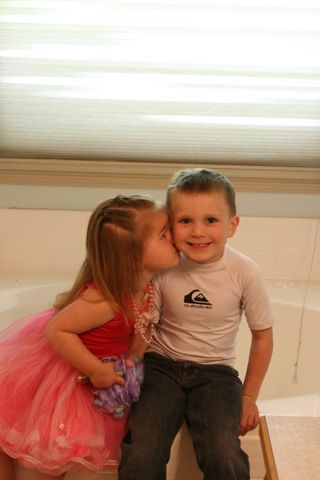 However, each morning as we are getting ready and having the most fabulous conversations a mother could have with her little girl, I feel the weight of the world on my shoulders and I find myself pondering many things.
I love that my daughter enjoys make-up, perfume and accessories as much as I do but I also want her to have a deeper understanding of true beauty. As I imagine the years ahead I look forward to teaching her the essentials of hair, make-up and fashion and yet there are definitely many more important things I hope to teach her about beauty. And so, I've created a list of the top 10 most important things I hope to teach my daughter about the qualities that make a girl truly beautiful.
1) Holiness is beautiful.
2) Speaking kind words about others and avoiding gossip and negativity is beautiful.
3) Confidence and humility - are beautiful. (If a girl can figure out how to gracefully balance these two qualities, she will SHINE).
4) A good sense of humor, laughter and joy are all beautiful.
5) Loving others especially when it is difficult is beautiful.
6) Using your gifts and talents to make a difference in the lives of others is beautiful.
7) Knowing how to be a true friend is beautiful.
8) Putting other people's needs before yourself is beautiful.
9) Honesty is beautiful.
10) Recognizing your dignity, value and worth as the Daughter of God is beautiful.
There are many more things I could add to this list, but this is a starting point. I look forward to the many mornings of doing our hair and make-up together in which we can talk about all the things that make a girl truly beautiful. And yet I know that just talking about these things is not going to be enough.
The thing that I have come to notice most about our mornings together is how Gianna watches me so closely and how she copies
ev-er-y-thing
I do. She wants to do everything I do, exactly as I do it. And although this is all so very flattering, it is also very scary. I am becoming more and more aware of how influential I am and how significant of an example I am called to be.
I also know that because she is watching me so closely that I need to make some important changes in my life. I have some pretty serious insecurities that I need to work on. Struggles with my own self-confidence, self-esteem and self-image are a constant and yet, I do not want her to inherit these burdens from watching me. If I don't seriously work on improving them, she will undoubtably pick them up.
In a recent podcast, Fr. Mike Schmitz gave this statistic. "Many women think as many negative thoughts about themselves each day as men have thoughts about sex." The sad thing is that I don't doubt this and yet I wonder why we as women think so badly about ourselves so often. Thoughts such as, "I wish I was skinnier, prettier, taller, shorter, more talented, funnier, smarter, etc." are thoughts that I don't want plaguing my little girl daily.
And so I must be her model. When she watches and studies me so intently I want her to see a woman who is confident, a women who desires holiness, a woman who speaks words of kindness and truth. I want her to see in me a woman who strives to be healthy but can still enjoy good food without making a comment of how it will mess up my diet.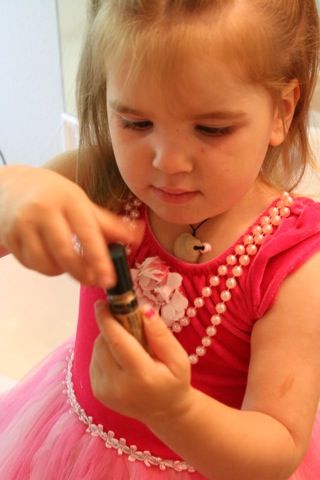 I want her to see in me a woman who knows how to take a compliment graciously (something I am
terrible
at). I want her to see a woman who is content, thankful, appreciative and generous. I want her to see her mother as a woman who likes to be in pictures and who doesn't mutter a negative comment each time she passes by a mirror. These are all things I need to work on and the one thing I've learned most in life is that sometimes you have to fake-it-til-you-make-it. I know that I'm not going to suddenly wake up tomorrow with a brand new self-esteem. A few positive thoughts aren't going instantly wipe away years of negatives one. However, I know that every day I can make conscious efforts to be more positive about myself especially knowing that she is watching and imitating me.
This is why I am writing this. In my life, I've known far too many extraordinary and beautiful girls and women who do not believe they are beautiful. Oh how I wish this wasn't so. And so I impart to all of us to reflect for a moment on the incredible power we have. The way we talk and think about ourselves (whether positively or negatively) sends incredible messages to the little girls in our lives who are watching us so closely.
There are many others watching and learning from our example as well and it's not only the little one's. It's all the women in our lives. It's our own mothers, sisters, cousins, friends and co-workers. It's the ladies at the gym, at church at the grocery store who are looking to us and are desperately hoping to see someone who truly loves herself and who by doing so gives them the strength and permission to do the same. We never truly know who or how we shape others, but I imagine that it's much more than we could
ever
realize.
Often times when I talk to the girls in my youth program about this topic, I ask them to close their eyes and picture one woman or girl in their life that they think is truly beautiful. Then I ask them to share with the group one or two qualities that this particular woman possesses. The answers are always, "she is the most loving person I know", "she makes me laugh", "she is confident", "she is kind to everyone", "she is a great friend", "she is an amazing artist", "she never talks badly about others", "she works hard", "she is creative". The answers are never, "she is skinny", "she has shiny, perfect hair", "she has flawless skin".
When I think about the women in my life that I most want to be like and whom I find to be the most beautiful, it is always their interior qualities that I most admire. And although all these women have many extraordinary physical traits as well, those are rarely the things I focus on in wanting to be like them. I also think it's funny how we easily see so many great things in others and yet have such a hard time seeing those same things in ourselves.
I know that the only way we as women can help to positively shape the next generation of little girls is to work on loving ourselves more. I dream of a day when we as women see our beauty, dignity and self-worth much more when we look at the cross than we do when we look in the mirror. I dream of a day when we as women are confident enough to realize that it is our inner beauty that truly radiates and accentuates our outer beauty. I dream about the day when the positive thoughts about ourselves far outweigh the negative ones.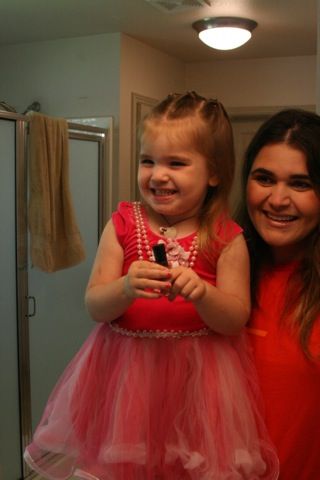 Most of all, I pray for God's extraordinary graces and love to help bring healing and wholeness to the deepest places within me that feed on the lies of unworthiness, fear and shame. I trust that He can make all things new. Today, I pray for all women, that God would give us the grace each day be able to see ourselves more in His image and to understand more deeply how fearfully and wonderfully made we really are. I also pray for all the little girls out there, that they would grow up knowing that they are princesses because they are the daughters of the King and that this fact alone makes them undeniably beautiful.
"Our deepest fear is not that we are inadequate. Our deepest fear is that we are powerful beyond measure. It is our light, not our darkness that most frightens us. We ask ourselves, Who am I to be brilliant, gorgeous, talented, fabulous? Actually, who are you
not
to be? You are a child of God. Your playing small does not serve the world. There is nothing enlightened about shrinking so that other people won't feel insecure around you. We are all meant to shine, as children do. We were born to make manifest the glory of God that is within us. It's not just in some of us; it's in everyone. And as we let our own light shine, we unconsciously give other people permission to do the same. As we are liberated from our own fear, our presence automatically liberates others." Marianne Williamson (also quoted in a speech by Nelson Mandela)